Day Three of the Anthro Challenge is here!  We're now officially half way through, and WOW … it's already been a fun (and very busy) week!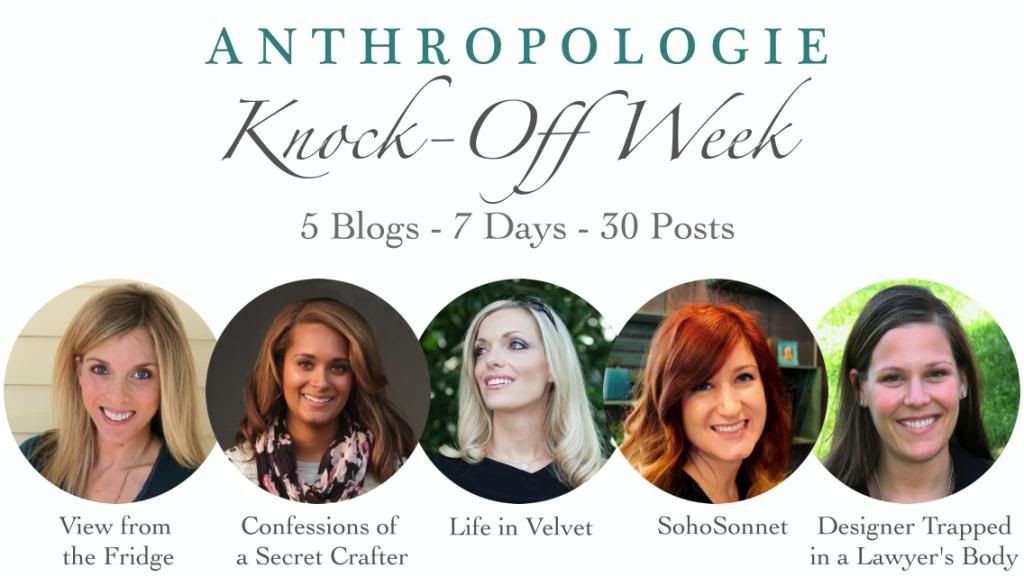 To recap the challenge (in case you missed the first two days), myself along with four other bloggers are sharing an Anthropologie Knock Off DIY project each day for six days (started Sunday … last project posted Friday).  On Saturday, we're opening it up to YOU with a link party to show off all your fabulous Anthro Knock Offs!!
Today, I'm sharing my version of Anthropologie's Sailor Mirrors:
Pictured above is the larger of the two mirrors.  I also created the smaller size mirror:
SUPPLIES
So … what did I use?!?  It's actually super simple.
Cake Pan … one from Goodwill, one purchased new at JoAnn with 50% coupon (12″ cake pan for the larger mirror, 8″ for the smaller)
Craft mirrors (again, 12″ and 8″ respectively)
Spray paint
Thrifted leather belts
Leather rivets
Liquid nails (adhesive)
Metal D-ring 'mirror hanging' clips – package of four:
PROCESS
Spray paint cake pans (I used hammered copper and hammered rubbed bronze).
Once dry, glue clips to outside of cake pans at approximately 10 and 2.  Let dry overnight (at least).
Glue mirror inside pan (with liquid nails) and let dry … again for at least 12 hours.
Create leather strap out of belt

Cut ends off belt to desired strap length
Place ends through clips, fold over ~2-3″
Hammer a nail through both pieces of leather to create a hole.
Install rivet to connect leather pieces.

Hang and admire your work!!
I learned a couple things with this mirror project …
#1.  You have to let Liquid Nails dry for longer than you thought (patience is not my strong suit!!)
#2.  It's SUPER hard to photograph mirrors … especially with my kids making a mess everywhere around me!  Forgive the awkward angles of the pictures above … I did the best I could!!
I almost painted these blue for my boys' room we're finally just finishing up.  There's still a possibility they'll end up that way if there's a space up there just begging for some Sailor's Mirrors :).
Thanks so much for stopping by today!  Now … head over and check out the other fabulous projects that the other ladies are sharing for day #3:
And … just in case you missed the first two days, here are my Knock Offs:
Stop by tomorrow to see what else we have in store …