Every now and then we come home to find books that have mysteriously come off our bookshelf, and have been torn up all over the floor.  Or sometimes just the corners chewed up.  Or maybe the covers half eaten.
Let me introduce the culprit, Miss Mol:
And … since I can't just throw the half eaten books away, they are piling up in our basement craft 'stash'.  I finally decided to make some stuff with 'em just in time for Fall and Halloween!
Book Page Pumpkins
These pumpkins have a couple good things going for them:
One …  They take 15 minutes or less to make
Two …  The make use of SOME of those torn up books
Three …  They're a cute NEUTRAL addition to your Fall or Halloween Decor
Four  …  They're completely FREE!!
Also going for them …
They're so simple, I don't even have step-by-step instructions and pictures for you.
(confession here:  I also don't have the step-by-step pictures because I didn't take any.  I was in a hurry and I just wasn't sure how these would turn out).
You'll need:
Book pages cut into strips
Glue or double-sided tape
Cardboard tubes … I used a paper towel tube cut down a bit for the large pumpkin, a toilet paper roll for the medium pumpkin, and a toilet paper roll cut in half for the small one.
Stick from your yard for 'stems'
Basically … you glue the book pages to the bottom of tubes.  Then glue the tops of the strips together at the top.  Go find some sticks from your yard and put them into the center of your tubes.
Also … quick tip, keep your pumpkin stem 'sticks' away from your dog (ahem, Molly …)
That's it!  That's my tutorial.  Not very detailed, huh?  Partly because it's so simple and partly because I need some sleep right now (busy, busy, FUN weekend) …
I do like pictures, though.  Here are a couple more …
And on the mantel with my neutral doll pin wreath:
Cardboard tubes, book pages, and sticks from your yard!  Couldn't be less expensive than that. huh?
I also made a Book Page Table Runner which you can see in my Fall Home Tour.
>>  MORE FUN PUMPKIN PROJECTS  <<
This project is part of a new blogger challenge/blog hop called #MakeIt. A group of fabulous bloggers and I have teamed up to work on monthly seasonal projects. This month is all about PUMPKINS! Take a look at all of the pumpkin projects below and visit some of the other blogs to see how they were created.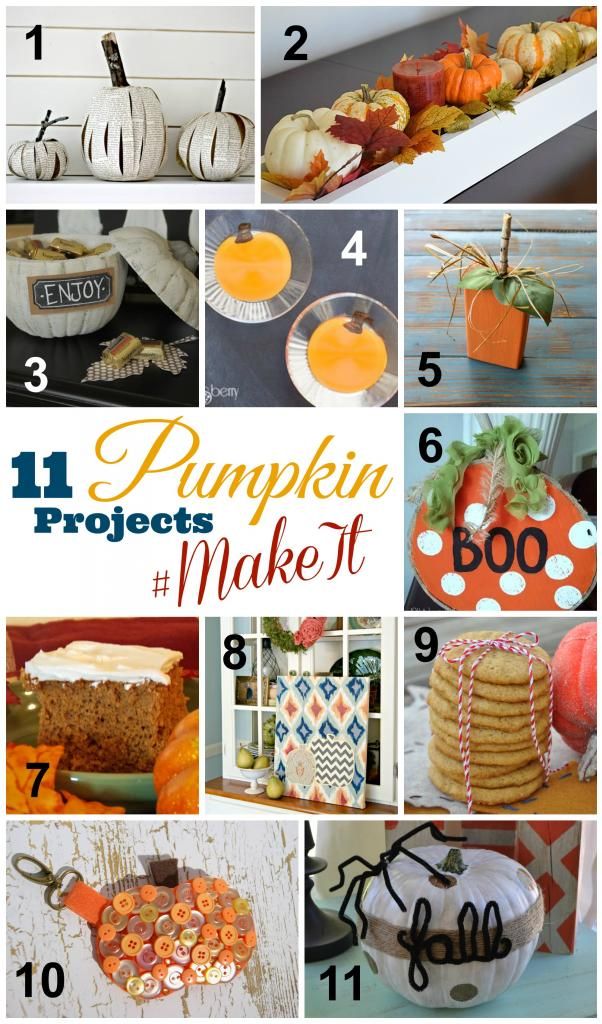 Thanks for stopping by today, and be sure to stop over and check out some of those other projects above (so creative!!).