Wood, Burlap, Lace, and Leather
What can you make with these random supplies?!?
Well … a piece of very subdued Fourth of  July wall art (obviously!!)
Now … before I get started on this project, I have to warn you I COMPLETELY messed it up!!  Like … beyond repair, un-fixable, un-hideable, very obviously … messed up!!  So … I really hope you're in the mood for a good laugh at my expense.
A little background to this project …
It's all part of a Summer 'Challenge' to create festive Fourth of July crafts or recipes without using the traditional Red, White, and Blue color scheme.  This challenge is going on now with 30 of my favorite bloggers and we're topping it all off with a HUGE giveaway to my favorite store … Target.  Enter below!!
I started this project while 40+ weeks preggo.  On a very hot day.  Outside.  With a hand saw.  Hoping to induce baby to be born (didn't work, if you were wondering … he took a good 4 more days!)
I finished this project with a one week old at home and two other crazy little boys on my heels.  I place complete blame for my huge mistake on them (still love you, boys!)  actually, this was completely and solely my fault, but why not blame the one's who aren't going to be reading this?!?
Despite the mess up … I'm still proudly displaying this art in our home as we speak … err, as I write and you read (?)
Now … after all that, are you ready to see it?!?  Well … wait no longer, here it is:
It doesn't look so bad, right?!?  Well, keep reading to find out what really happened …

I'll take you through how I made this, and see if you can spot where my huge mistake comes in.
SUPPLIES:
6 Craft boards 3/8″ x 4″ x 36″ (I bought mine at Michael's)
1/2″ x 2″ x 36″ boards for back frame
Craft paint (I used white and grey)
Scrap pieces of grey or silver leather (or faux leather) … enough for 5 stars
Roll of 2″ grey burlap
2 yards of lace trim ~ 2″ thick
Wood Glue
Craft Glue
Wood sealer or wax
GETTING STARTED:
First … you'll need to measure and cut your boards to length.
For the cuts, here's what I ended up going with:
Cut all 6 boards to 30″ long (you can discard the 6″ sections)
Then, make another cut in three of the boards at 20″ (you'll need to keep both the longer section and smaller 10″ section for your flag)
Note:  using a hand saw to make these cuts does NOT help induce labor in an overdue lady … FYI
And here's how you'll layout your pieces (10″ pieces turned 90 degrees in top left corner):
You'll notice in the picture above, I sanded the boards on the top surface as well as all the corners and edges to give the wood pieces a more 'rustic' and 'weathered' look.
PAINT YOUR FLAG!
Since we're going for a neutral, subdued look here, I choose to use GREY and WHITE (but you could totally use the traditional red, white, and blue here, too).
I wanted some of the wood grain to show through on the boards … more similar to a stain rather than a paint.  To do this, I simply watered down the craft paint.  I used about a 2 to 1 ratio of water to paint to achieve this finish (you can adjust to your preference, accordingly).
Then, I simply put a coat of white or grey on each board as shown and let dry:
APPLY A WAX OR SEALANT TO WOOD
I used some Americana Clear Wax (sold at Michael's near the chalk paint).  You could also use any other wood sealer (Polycrylic is another one I often use).
ASSEMBLE YOUR FLAG
Once all your paint and sealant/wax is dry … layout your flag with the boards FACE DOWN and glue on your 'frame' made with pieces of the 1/2″  x 2″ boards.
Apply a generous amount of wood glue to the 1/4″ pieces, and stick onto the back of your flag pieces.  Put something heavy on the boards and allow to dry (for a good 12 hours).
Don't judge my 'heavy' objects holding my boards in place
STOP!!!
Did you spot my fatal flaw in those pictures above?!?
Hint:  It has nothing to do with the alcohol!!
Now … keep in mind I was working quickly as Ben was sleeping for an unknown amount of time.  I also had two other little boys 'helping' me assemble this pallet.  Excuses, Excuses ….
Well …  If you notice, when I flipped by boards over to lay face down, I obviously should have laid them out 'mirrored', that is the vertical boards should have been in the top RIGHT hand corner when flipped over (so that they're in the correct, LEFT hand corner, when flipped over to the front).
Well, you guessed it!  I failed to notice this until I flipped my flag over the next morning … after the glue had dried for a good 12 hours!
Matt got a good laugh, at least!  I tried for about 5 minutes to pry off the frame on the back in hopes of fixing it.  The boards didn't budge.  One bit.
So … I decided it was going to be an abstract, artsy flag.  You know … a piece of art that I intentionally flipped for a good reason.  Sure.  We'll go with that!
If you're attempting this … just be aware of your layout when it's flipped over!
FINISHING TOUCHES
I cut some stars (freehand … I wanted them to look 'imperfect') out of some faux leather I had left over from this project, and stuck them in place with upholstery tacks).
I thought about stopping there … with more of a simple flag, but then decided to add a couple more details.  Enter the burlap and lace.  I first glued the middle of the lace to the burlap:
Then I glued the burlap to the boards:
Trim the edges (or fold 'em under and glue), and you're done!
USE TECHNOLOGY TO FIX YOUR MISTAKE
(well in pictures, at least!)
I used some fancy photo editing tools to mirror the actual image and look as it was originally intended:
HANG AND PROUDLY DISPLAY!
To hang, I simply hung the whole pallet on two nails right between two of the boards:
That's it!  I hope you got a good laugh out of my messed up flag!  And … like I said, it's still proudly on display in our house right now!
Now, before you head out, be sure to check out the AMAZING projects that were shared the last two weeks AND be sure to enter for your chance to win a $310 Target Gift Card by using the Rafflecopter at the end of the post!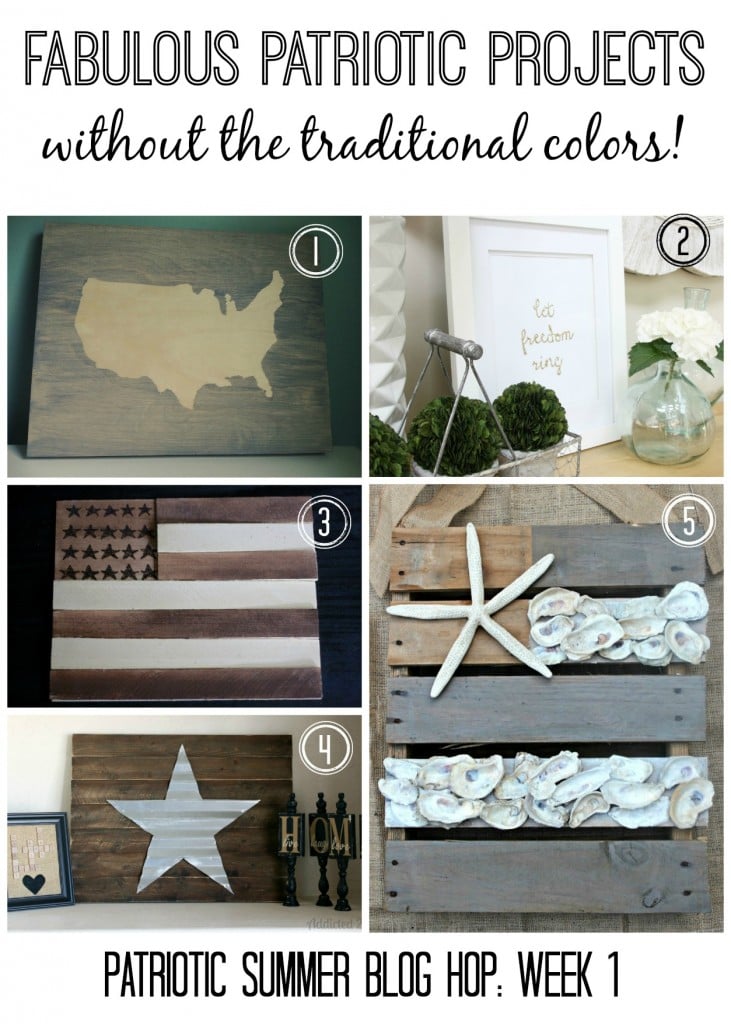 1. USA Map by Paper & Fox
2. Let Freedom Ring Gold Art by Life on Virginia Street
3. Wood Shim Flag by Designer Trapped in a Lawyer's Body
4. Corrugated Metal Star Art by Addicted 2 DIY
5. Neutral Nautical Pallet Flag by Southern State of Mind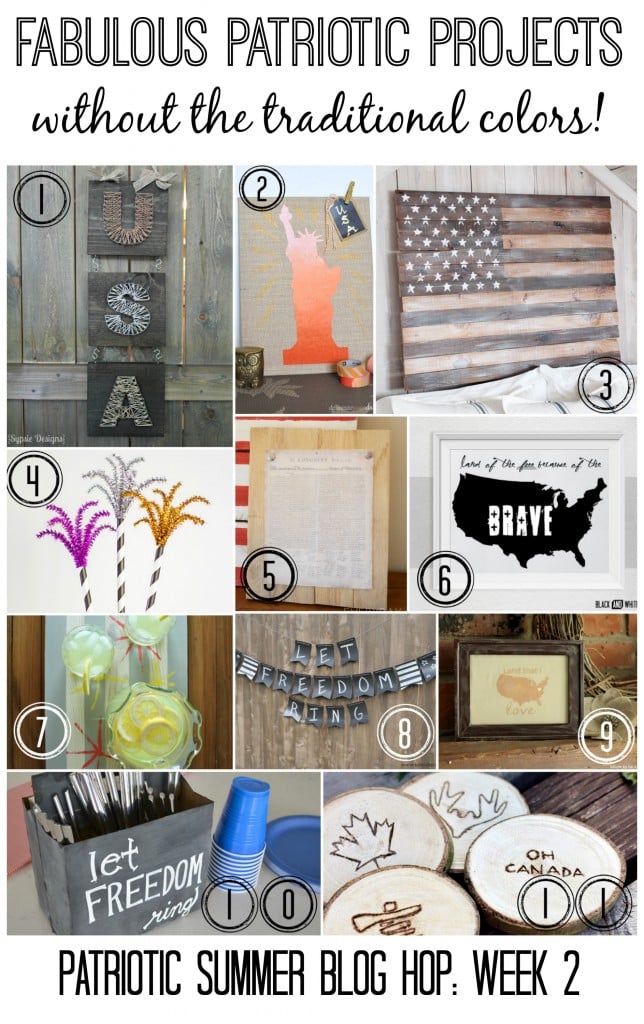 Thanks for stopping by today!  Hope you're having a wonderful weekend!